Forsman & Bodenfors Inhouse is the freestanding inhouse agency. We combine the standalone agency's creativity with the inhouse agency's efficiency. We also have the expertise to digitalize the business you've got and the business you want.​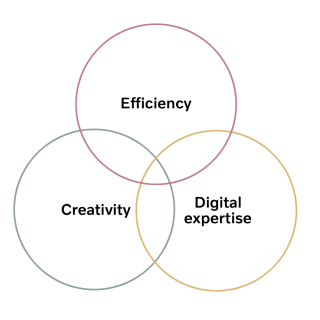 Freestanding means creative and agile
Communication is our core business, and our dedicated teams add high-level strategic and creative thinking to your assignment. We also bring that healthy outside-in perspective, and the inspiration which sparks change and progress.
As a freestanding agency (belonging to a large network) we can easily adapt our resources to fit your needs. We expand and reduce our team to match temporary swings in workload, and we bring in specialists with niche competences from our own agency or from the Forsman & Bodenfors group when required.
Inhouse means efficiency and control
Money's worth is at the core of every inhouse model, and our set-up offers a lean process which saves time and money – and gets the job done. By working close to you on a continuous basis, we also help you keep your brand course. You'll keep all activities across all your communication channels aligned. You'll achieve consistency over time in brand messaging and expression. And you'll stay in control of your brand's voice and customer dialogue.
Digitalization means business
Our digital offer goes far beyond the production of online communication content. We have the expertise to analyze your company's digital eco system and form a strategy for how to improve its usefulness for sales and customer relations. And with the objectives set, we can develop new solutions and services which boost both the user experience and the entire customer journey.